A Message for Leaders in the Church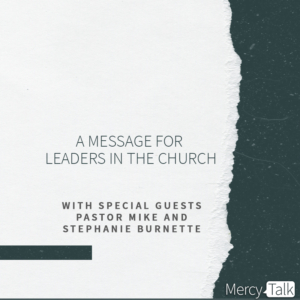 Enjoy this special BONUS episode of MercyTalk with hosts, Jen and Melanie. Pastor Mike Burnette and his wife, Stephanie, join us as our special guests. Pastor Mike is the Lead Pastor of LifePoint Church in Clarksville, TN, which Outreach, Inc. named the #1 fastest growing church in the U.S. in 2018! Mike and Stephanie will discuss their passion for the Church and what they believe God's heart is for His Church. They will also offer their greatest words of encouragement and most important challenge for leaders in the Church today.
Have a comment or question? Email MercyTalk.
Podcast: Play in new window | Download
Subscribe: Apple Podcasts | Android | RSS