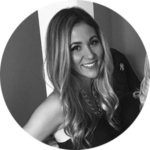 We welcome Jordyn from our Marketing Team as she shares a personal post about the being in a "funk". Thank you Jordyn for your vulnerability and willingness to share about what God taught you. We are grateful for your heart and wisdom.
---
Do you ever wake up on the "wrong side of the bed"? Whether it's a bad dream, a night of tossing and turning, or simply just a bad mood, we all have those morning we wake up in a less-than-pleasant mood.
Recently, I woke up on the "wrong side of the bed." Instantly after my alarm sounded, I woke up and was flat out crabby. I wasn't crabby because I had a rough day ahead or because I hadn't had my morning coffee, I just woke up in a funk caused by a bad dream.
I rushed to get ready and get out the door for work, forgetting it was trash day, which made me even more behind schedule and added to my mood. As I drove my car out of my neighborhood, my morning instantly changed upon one person's action.
A sweet, elderly woman who frequently takes morning walks was swaying along at her own pace and simply gave me the biggest glistening grin and an enthusiastic wave. It immediately made smile, shifted my mood, and made me slow down. I loved that she was walking at her own pace, loving life, waving to everyone who drives by in a frantic hurry.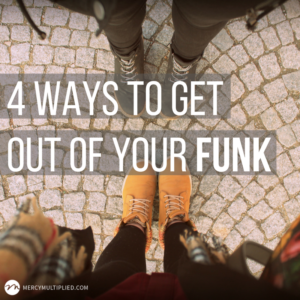 Her action made me realize that I have a choice in how I act and how I handle my emotions. I decided I would refuse to let the enemy try to convince me it's okay to go through an entire day in a funk, not acting like myself. Don't get me wrong, I understand we all have those days. But, I've decided not to let those funks control me. I have the freedom to break free from those emotions, and I will choose to.
[Tweet "I have the freedom to break free from those emotions, and I will choose to."]
If you're in a funk or wake up on the "wrong side of the bed," here are a few tips to turn your mood around:
1) Write
One praise, one prayer. Writing one praise allows you to focus on one good, positive thing God has done in your life. Writing one prayer allows you to get your worries or anxieties off your chest and into the hands of the Lord.
"Cast all your anxiety on him because he cares for you." 1 Peter 5:7
2) Sing
Turn on the radio and worship! When we sing out in worship, it allows us to lift up grateful hands and praise all He has done for us. Singing is a reminder and a chance to proclaim all the good God has done.
"Sing to him, sing praise to him; tell of all his wonderful acts." Psalm 105:2
3) Act
Perform an act of kindness. It can be as simple as the act my neighbor did for me: a smile and wave. Be a blessing to someone else, and it will change your mood as well.
"Whoever brings blessing will be enriched, and one who waters will himself be watered." Proverbs 11:25
4) Read
Open your Bible or a daily devotional! Reading the truth of the Word and the goodness of God will fill you with love and gratitude. Go through the fruits of the Spirit and pick one to focus on for the day. Whether it's patience, kindness, self-control… commit to one for the day.
"But the fruit of the Spirit is love, joy, peace, patience, kindness, goodness, faithfulness, gentleness, self-control; against such things there is no law." Galatians 5:22-23