When the St. Louis Run For Mercy 5K and Family Walk turned into a virtual run due to health and safety precautions, the St. Louis community and staff banded together to plan a special event for the residents.
Every spring, the Mercy residents begin training and preparing for the Run for Mercy 5K and Family Walk. The residents attend fitness classes several times a week, where they learn how to build a foundation of health and wellness. Many residents have never run a 5K before, and training can initially seem daunting, but they learn that through the process, they are capable of amazing things!
"Through training for this 5K, I have been able to push myself past my understood capabilities and see that I am much more capable than I thought. I have more potential and more inside of me."-Hannah, St. Louis resident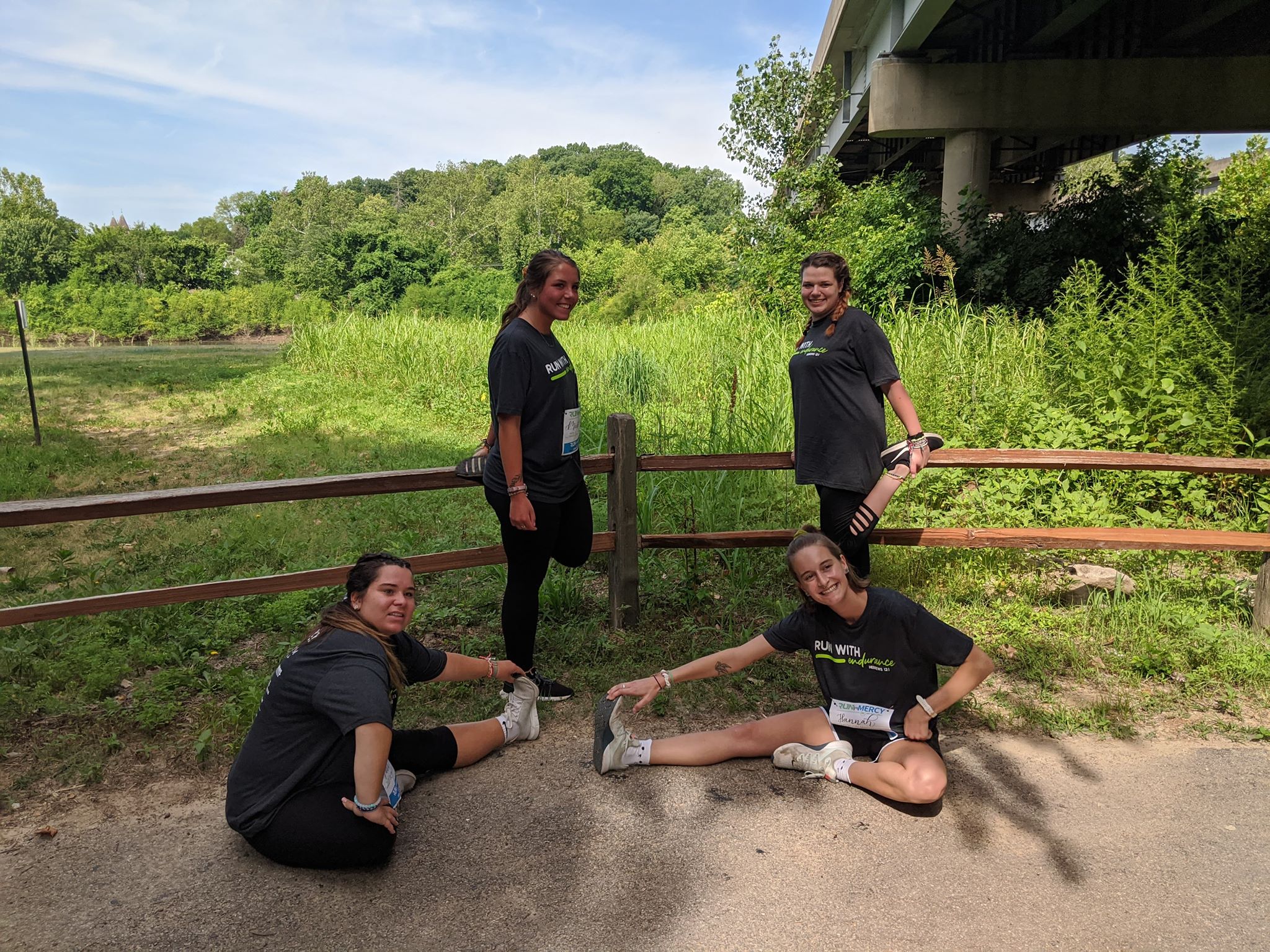 Since the residents put in such hard work training, the staff and event sponsors wanted to make sure the young women still had a special day despite race day looking different.
On Friday, June 19th, the St. Louis residents ran their virtual 5K in Minnie Ha Ha Park. Mercy staff was there, cheering them with encouraging words and handmade signs. They wore butterfly wings to signify the transformation that is taking place in their lives.
"Going through the finish line was awesome," shared current resident Emily. "In life, you go through a lot, and this was the first step towards perseverance. I was really glad to be a part of this day."  
After all residents crossed the finish line, there was an award ceremony at the Mercy home. The residents were recognized and received awards for race place finishers and top fundraisers. Each young woman also received a personalized medal and their own unique award including "The Top Encourager Award," "The Go-Getter Award," "The Roadrunner Award," and "The Energizer Bunny Award."
The residents ended race day with lunch donated by Chick-Fil-A and a special dessert from race sponsor Nothing Bundt Cakes!
Mercy is thankful for everyone who participated, sponsored, and fundraised for our virtual St. Louis Run For Mercy 5K!
"Thank you so much for all you do. This run and this ministry wouldn't be possible without you! Thank you for being the hands and feet of Jesus here on earth; the impact is eternal." – Ginger, St. Louis resident.
If you would like to support our St. Louis residents, you can still donate to help them reach their $15,000 fundraising goal! Click here to make a secure donation.
St. Louis Run For Mercy 2020 Sponsors: M1 Bank, Gordon Food Service, Arbonne, KTM essential oils, Promotions Pronto, 99.1 JOY FM, Nothing Bundt Cakes, Core Authenticity, Evergreen Mobile Power, Landmark Sign Company, and Snow Cone Joe.