Many non-profits depend heavily on their year-end events to raise much-needed funds for their organizations, and Mercy is no different. This year, our Development team has been working hard to reimagine these events as people are not allowed to gather in large groups. While in the past, only people in the Sacramento area would have the opportunity to attend our annual Mercy Wonderland event, this year, you have the chance to participate in this special event and purchase some unique items.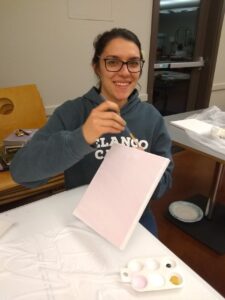 This year's virtual event is an online art auction that allows people to bid on custom pieces donated by Mercy Residents, Mercy Graduates, and local artists. It's the perfect opportunity to do some early Christmas shopping or purchase something special for your home. Bidding is now open and will close Thursday, November 19th, at 8 pm PST. You can check out all the items up for auction and start bidding here.
Our Senior Development Manager, Kerri Naber, shares, "What touched my heart about working on this event was hearing from the community about their excitement to have a tangible way to show support of the Mercy residents in this isolated year. We were shocked and grateful when we had over 40 pieces donated to the auction! Another special aspect has been hearing from Mercy Graduates, who were elated to give back to the program that taught them freedom is possible.  We had graduates ship their unique artwork from all over the United States, and without fail, every Graduate would tell me, 'I prayed over the art that it would bless the home it would end up in.' What an example of God multiplying Mercy!"
Because of the digital nature of the event, you can participate from anywhere in the country! A few hours before the bidding closes, we will be going live on our Facebook event page at 5:30 pm PST on Thursday, November 19th, so be sure you join our event page. In this 20-minute virtual event, a Mercy Graduate will share with you her powerful testimony of how God transformed her life during her time at Mercy. The Graduate will also virtually walk you through The Feathered Nest to show you the artwork you can bid on.
If you are in the Sacramento area, you can view the artwork in person at The Feathered Nest, located at 3264 Taylor Rd, Loomis, CA 95650, during their normal business hours. Don't forget, bidding will close on Thursday, November 19th, at 8:00 pm PST.
All artwork winners have two weeks to pick up their artwork at The Feathered Nest located at 3264 Taylor Rd, Loomis, CA 95650. There are fixed-price items such as shirts and greeting cards that will be directly shipped to winners without an additional cost. Please note, for those living out of state or those who cannot pick up their artwork in person by December 4th, the winner will be charged for full shipping costs to ship your item to you. 
The incredible artists have set their own Fair Market Value price on the artwork, and any amount bid beyond that estimated value will be counted as a tax-deductible gift. Items for sale such as shirts and hoodies have no tax- deduction. Donation items such as greeting cards and resident hand painted canvases have a full tax-deduction amount.

Special thanks to our incredible event sponsors!
William Jessup University, The Feathered Nest, and Thrivent Financial