Several weeks ago, before the coronavirus hit the United States, and before our Nashville Run for Mercy 5K and Family walk became a virtual event, the amazing people from Fleet Feet in Brentwood, TN came out to our Nashville home and fitted all our residents with running shoes.
Several Fleet Feet staff members pulled up to the home in their mobile unit they call "Bessie" and fitted each resident with perfect pair of shoes for their feet. They also provided them with running socks. The residents, who had been training for the 5K were so surprised and excited. "Thank you for the shoes, I love them so much," said Nashville resident.
"Thank you so much for the wonderful blessing of new running shoes and socks," adds Nashville resident. "Running has always been a huge passion and part of my life. Thank you for thinking of us!"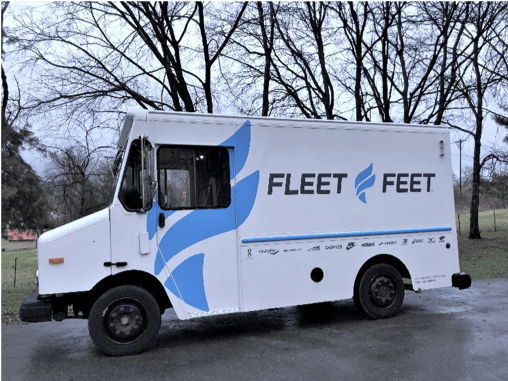 Fleet Feet's mission started in the fall of 2019, after realizing the excess of shoes being returned that could not be resold, although only worn a few times. Fleet Feet's Director of Marketing, Tammy McKinney said, "We decided that we wanted to get those shoes on the feet of the Nashville community who might not otherwise afford to purchase a properly fitted shoe. With the use of Bessie, our mobile unit, we are able to spread love throughout Nashville by fitting folks for shoes as well as offering new socks….all free of charge!"
"We heard about Mercy Multiplied through their 5K," adds McKinney. "Our owner used to own the timing company that Mercy used for the 5k race. When she heard about Mercy's program, she immediately wanted to support the cause with a financial donation. When this year's race was being planned, and we were contacted about being involved, we wanted to take that sponsorship a bit further by offering shoes to the women of Mercy Multiplied."
We are so grateful to the Fleet Feet Staff for not only blessing our residents with shoes, but for also spending time with them and doing a running clinic to help them become even better equipped to run the 5K they were training for. If you are still interested in running a 5K to help raise money to support the residents in our program, you can sign up for our virtual run here.