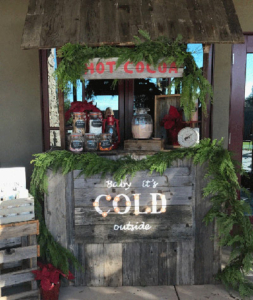 Mercy Wonderland 2016 hot cocoa barThis holiday season, the Sacramento Mercy home will be transformed into a Mercy Wonderland. On Friday, December 1st, from 6:30 p.m. to 8:30 p.m. Mercy will invite guests into the home to enjoy heavy hors d'oeuvres, a hot cocoa bar, and live Christmas caroling.
"I love the Dickens Carolers we have, Encore at Christmas. They really set the scene as we greet our supporters walking into Mercy Wonderland," said Kerri Naber, Sacramento Development and Community Relations Manager.
More than festive goodies and music, guests will also enjoy tours of the home led by Mercy residents and testimonies of life transformation by Mercy graduates.
"My favorite part of Mercy Wonderland is the live-testimony tour," said Naber. "I love having our guests be able to meet the Mercy girls and hear their stories. The tours are led by Mercy residents, and in each of the rooms you visit, a resident will tell a part of her testimony and talk about a typical day at Mercy. It is not only heartwarming, but also feels like an 'insider' look."
Mercy Wonderland tickets will be sold for $35 until November 28th at 3:00 p.m. (PST). Sponsorship opportunities are available as well.
For more information on our Walking Through a Mercy Wonderland event, please click here or contact Kerri at knaber@mercymultiplied.com.