In this week's Fruits of the Spirit guest blog, Pastor Marshall Gallagher shares with us about the spirit of Gentleness. Pastor Marshall serves as lead pastor of Hope Community Church in Nashville, Tennessee, and is a part of our Outreach Services team!
I have a three-month-old, and his older sister, who is five, loves to pick him up. The essence and definition of gentleness we see in the Bible is captured in that moment. Gentleness is the way you want that interaction to go, something very fragile being held by someone else.  It's a little elusive compared to other fruits of the Spirit because it can be applied so broadly. You can be gentle with a basketball, with a coworker. It can describe an animal or Jesus Himself.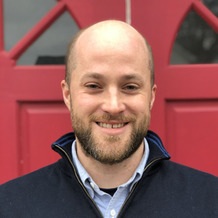 When we talk about the fruits of the Spirit, gentleness is a characteristic that shapes and colors anything and everything you do. Jesus was gentle. He said, "Take my yoke upon you, and learn from me, for I am gentle…" in contrast with the burden of the Pharisees.  Think also of the "meek" as those who inherit the earth, and even though our English bibles translate those two words differently, in the original Greek, they are the same. Often gentleness is used in contrast with harshness. Paul writes, "What do you want? Shall I come to you with a rod of discipline or with love and a spirit of gentleness?"
Simply put, gentleness is the tenderness of Jesus carried out in how you approach something. Often, we think we should go easy or give tough love. Jesus, however, came full of grace and truth.
Jesus didn't always act gently, though. He certainly was harsh with the Pharisees, those who would make it harder for others to get to God. He was harsh toward Satan when He told him to flee after being tempted, and He was harsh toward sin on the cross. To those He gathered, however, He was gentle. The tough love of Jesus was difficult but rarely harsh, for He is gentle.  And it only makes sense that if we are being made more into His image, and His Spirit dwells in us, that we ought to reflect that same gentleness as we follow the Spirit.
In Galatians, when we read the list of the fruits of the Spirit, Paul is not simply saying, "be more gentle!" That's the opposite of what he wrote about to the Galatians. It's a fruit of the Spirit—a result. So, to say "quit being harsh, just be gentle!" would be the equivalent of telling someone to "quit being a banana and be an apple."  It's ridiculous when we use the fruits of the Spirit as imperative commands because it's ridiculous to expect fruit to come through sheer effort. Fruit is a result. Paul says, "Follow the Spirit, and you will be gentle."  Get close to Jesus, experience His gentleness toward you, and His gentleness will come out of you.
So how do you do that? How do we become more like Jesus? How do we bear fruit, live by the Spirit, walk by the Spirit? One big piece is spending time with the Spirit, and there are a thousand resources, plans, and ways to do that. My guess is information on how to spend time with God is not your issue.
Let me put a challenge before you that has to do with gentleness. Commit to a community of faith. Gentleness is referenced a lot in the Epistles, and it often has to do with a confrontation. It's not a fruit that can exist individually. And with a confronting gospel, gentleness has all the opportunity in the world to come out. If we commit to a faith community, then the Holy Spirit has a chance to plant, water, and grow our gentleness. What is rare, but what God is calling you to do, is to walk with the Spirit in relationships and help one another grow in gentleness. Gentleness while grieving together. Gentleness while guiding one another. Gentleness while correcting error in one another and gentleness while disagreeing with one another.  Restore one another in gentleness because we have been given the gentleness of God in Jesus and are empowered to do so with that same Spirit.
Pastor Marshall Gallagher is the lead pastor of Hope Community Church. He is a native Nashvillian, born and raised not far from Hope Community Church. He studied finance at Auburn University (War Eagle!) and received his Master of Divinity from Gordon-Conwell Theological Seminary just north of Boston, MA. He has been a part of many different ministry settings. In his free time, he enjoys fantasy football, climbing, and eating hot chicken. He and his wife Wesley have three children, Shook, Mabel, and Lawson. You can find Pastor Marshall and Hope Community Church on Facebook, Instagram, or their website linked here.
Mercy Multiplied exists to provide opportunities for all to experience God's unconditional love, forgiveness, and life-transforming power.  We offer multiple programs and resources online and onsite designed to equip people to live free and stay free in Christ. For more information about the services we offer, click here.
Want more resources? Check out our MercyTalk podcast episode "People Fuel Part 1". For daily inspiration, follow us @MercyMultiplied on Facebook, Instagram, and Twitter!