The holiday season is upon us and another Thanksgiving is quickly approaching! As the years go by seemingly quicker and quicker, I anxiously await this joyous season every year. Every year I look forward to the cooler weather, sweater wardrobe, festive foods, and good company.
Although these are all things I look forward to, this time of year, for me, is always accompanied by stress. It's such a busy season, full of traveling, family obligations, and things to prepare for, that I get overwhelmed by all there is to get done on the calendar. Sometimes it pulls the joy out of some of my favorite events.
We put so much pressure on ourselves to attend every party, make the perfect casserole, have the best décor, etc. that sometimes I wonder: do we actually stop and enjoy this season –a season that should be a chance for us to slow down, take some time off work, and enjoy time with loved ones?
As this season begins, I realize that I need to prepare my heart for Thanksgiving. All the obligations can feel like to-do's when they are really privileges. Every year, one of the biggest stresses for me is my family. I have a huge family with twenty-some cousins and seven aunts and uncles. Needless to say, our Thanksgiving can get a little crazy. It's inevitable with that many people that drama pops up. At times, I can let it get the best of me, when I need to remember to stop and give thanks.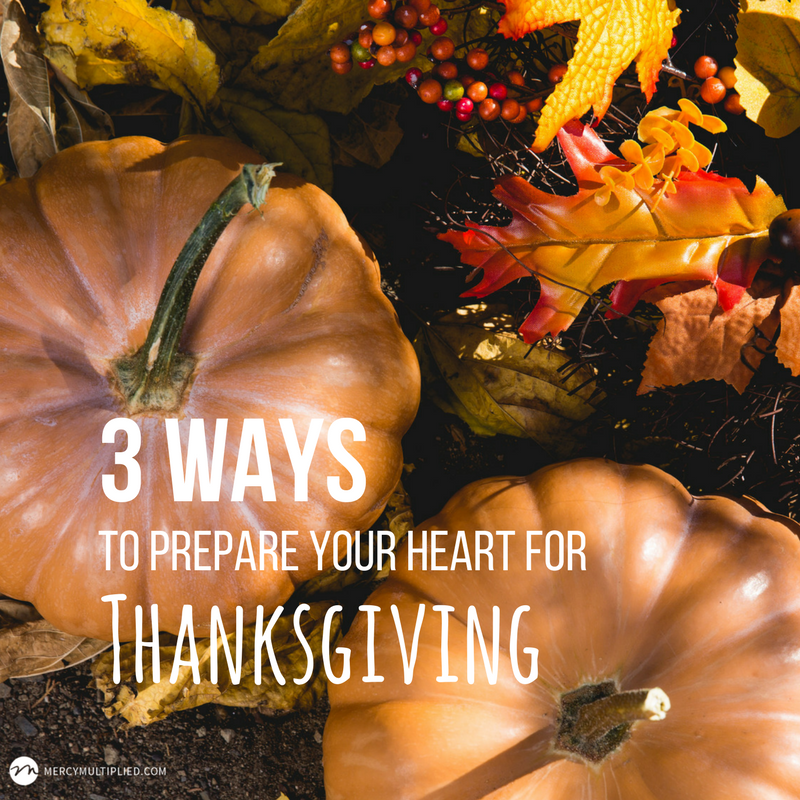 Before heading into this season, my prayer for you is that you will take some time out of your busy schedule and prepare your heart…
Pray – Prepare your heart for the season. Ask God to fill your heart with joy, thankfulness, peace, and wisdom.
And now, dear brothers and sisters, one final thing. Fix your thoughts on what is true, and honorable, and right, and pure, and lovely, and admirable. Think about things that are excellent and worthy of praise.
Philippians 4:8 NLT)
Be Intentional – What if you walked into this holiday season intentional about making someone else feel special? I challenge you to tell one person this season why you're thankful for them. Be intentional about authentic relationship.
I thank my God every time I remember you.
Philippians 1:3 (NIV)
Think Christ-like – Do you emulate Christ through stressful times? Most of my family members don't know Christ. Therefore, some of the only exposure they might get to Christians is me. Am I loving the way God calls me to love? Remind yourself throughout the season to be Christ-like.
Anyone who does not love does not know God, because God is love.
1 John 4:8 (ESV)
I pray that, ultimately, you prepare your hearts to remember this season of thankfulness. Give thanks for what God has given you, and give thanks that God sent His one and only Son to die on the cross for you. Have a wonderful Thanksgiving!