Joy is more than a fleeting emotion. It is something rooted in God's character and view of us. Only by seeking His face in times of struggle are we able to walk in joy, rather than our emotions. We are excited to have this vulnerable and transparent encouragement from one of our California home staff members.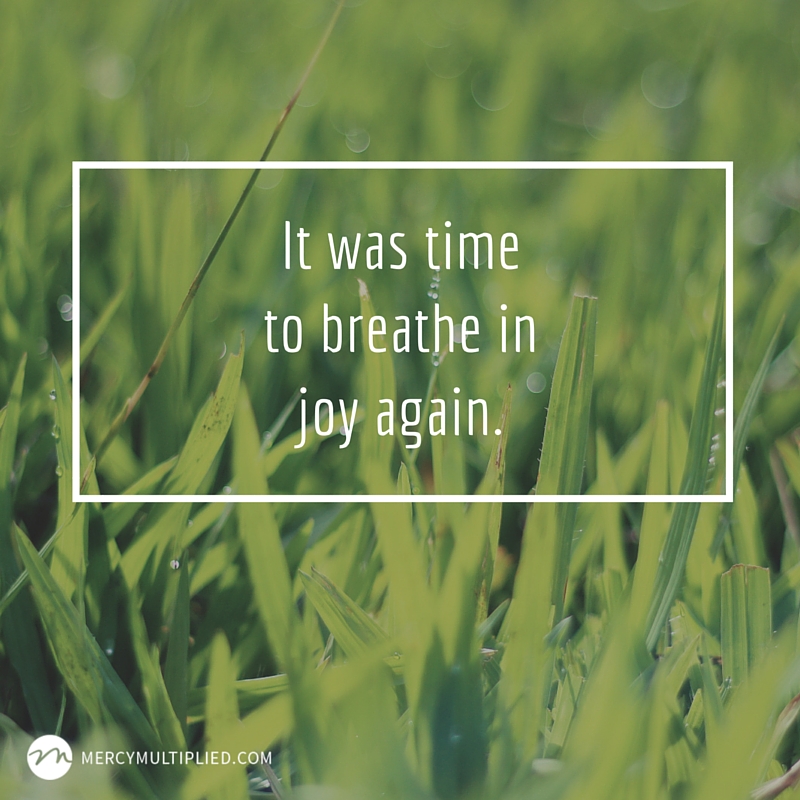 I have lived a lifetime of revisiting dark and dingy places; allowing the Lord back in just one more time, to peel away just one more layer and then doing it again… and again… and… again. Along the way, I get little snippets of God's mercy and grace to keep me going, but just as anchors to who He is and what He has manifested in my life – just refreshers, so that I will keep partaking. Throughout my young adulthood, I struggled immensely with depression. Something I have only in recent years begun to admit, to myself and others, is that there were too many times that I did not want to live anymore. In God's mercy, as I matured in my relationship with Him, I received great healing in my mind and heart and the depression lifted. I learned what it was to live – not just exist. I've had many, many opportunities along the way to see God's tender heart for me, even through torrents of tears and perspective-twisting grief, and through it all, I chose to:
"…live as the Israelites gathering manna…a substance whose name literally means "what is it?"…More than 14,600 days, they take their daily nourishment from that which they don't comprehend. They find soul filling in the inexplicable. They eat the mystery." (One Thousand Gifts, Anne Voskamp)
I ate the mystery.
But lately I find myself restless. I've felt depleted.
One night recently, I heard God speak to my heart, "Katie, do you have joy?" I knew what that insistent voice was driving at – a truth I'd tucked away somewhere, easily forgotten. Joy… unending… dug-down-deep… firmly rooted… joy. I had been so focused on all of the outside circumstances in my life, that I'd once again quietly began to believe that the ebb and flow of my joy would rise and fall at life's leading. Focusing on what is all around is "happiness" and "sadness" – these are emotions. I think it's okay to experience emotions but we can't live in them…they ultimately can't be trusted.They lead us around by the neck and choke out that which sustains us: truth. Emotions are not joy.
[Tweet "I think it's okay to experience emotions but we can't live in them…"]
Joy resides on the inside. It is inexhaustible. It is unquenchable. Joy is not an emotion. It's a reality. Joy is the life of Jesus Christ, living, moving, breathing, resurrecting on the inside of us. It doesn't waiver, it doesn't wane; it's at the ready, longing to be tapped into, every second of every day – it is the mystery made manifest. Joy is, "like a tree, planted by the water, that sends out its roots by the stream; it does not fear when heat comes; its leaves are always green. It has no worries in a year of drought and never fails to bear fruit" (Jer. 17:8). It was time to breathe in joy again. Diving into the deep waters of the Godhead is a journey unlike any other. His depths are unsearchable. There is always more. More of Him. More of Me… the real me. I am a partaker in the fellowship of Jesus Christ, the real joy giver… the mystery never tasted so sweet.
Are you walking in joy today? 
Katie Snyder is an Administrative Assistant in our Sacramento Mercy home. She is currently a graduate student in Marriage and Family Therapy. "The Lord called me to California to work in the Mercy home when it opened, and I've happily resided here ever since…although the old adage is true: you can take a southern girl out of the south, but it is virtually impossible to take the south out of a girl," said Katie. "My heart's truest desire is to see people set free from life's bondages and to walk with them as they unearth and recover their true selves, their identity. I love this life I've been entrusted with; it's a true testament to how great our God is. To Him be all the glory for this life transformed."