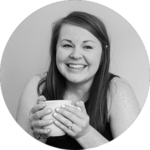 As we approach the busy holiday season ahead, this reminder is ever so timely. A special thanks to Sarah from our Marketing Team for sharing a bit of what God has been teaching her in 2016: Rest…in HIM. 
---
Somehow it's already the middle of October, and after a well-timed message from a friend, I began to reflect on the year so far.
My word for this year is rest. Most of last year was filled to the brim with weddings, parties, trips, and work events – and these were all good things, but there was no time left. I used it all up. I filled up my time before I'd even realized it. So when I had nothing left, I turned to the Lord and He gave me the word rest.
And now here we are, almost through this next year, and it seems like it's happening again. But then, that message I received spoke volumes. "He can handle it if you will just give it over to Him."
"Come to me, all you who are weary and burdened, and I will give you rest. Take my yoke upon you and learn from me, for I am gentle and humble in heart, and you will find rest for your souls. For my yoke is easy and my burden is light." Matthew 11:28-30 
Y'all, work is hard. Life is heavy. Everyone needs something from you. Invitations to events come in. You make plans. You fill up your calendar as full as it can be, and then you have nothing left to give. The world has plenty of suggestions for us. Keep going. Hustle. Push through, and it will all work out. This season will pass.
But what if we aren't always called to push through? What if we are called to rest?
Okay, hear me out. I love a good sleep-until-you-wake-up kind of Saturday morning, but that's not what I mean. I don't think the rest we're seeking can be found in cozy sheets or comfy pillows.
We can try to find rest in worldly things. We can try to handle it all ourselves, but we sure aren't going to make much progress without Him.
[Tweet "We can try to handle it all ourselves, but we sure aren't going to make much progress without Him."]
I don't think we're supposed to seek rest apart from the Lord. He calls us to take on His yoke, and He promises it will be light! So if life's got you down, look up. Trust God for the strength to carry your burdens – you just work on learning how to be more like Him.