Mercy Graduate and Freedom Advocate Gives Back!
A Mercy graduate and Freedom Advocate recently shared a remarkable story of how she took Mercy resources and used them to multiply freedom within her community. Amy Anderson held a teen girl's conference at her church and used our Keys to Freedom study to teach the forty-one girls who attended.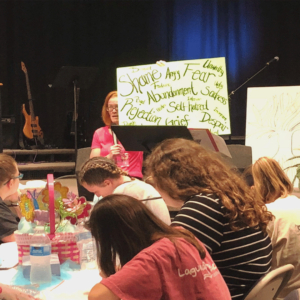 Teenage girls from different churches gathered to learn about freedom in Christ. The weekend was set up as a lock-in and kicked off on Friday night with games and entertainment that led into worship and teaching. On Saturday, the girls participated in a trust walk, a team building activity centered around trust where a leader gives verbal or nonverbal instructions to navigate a blindfolded partner to avoid obstacles. They also implemented an idea from one of our MPower workshops where they wrote down lies they believed about themselves on popsicles sticks and formed the sticks into a cross. "As I was making the cross I was in tears with all the things young people are struggling with today," said Amy.  "A huge percentage was suicidal thoughts and really hard stuff. It was sobering to see it."
Later in the day, the girls were given some time to share about their lives with one another and during this time, a fourteen-year-old girl admitted to her leader that she was ready to forgive her abusers. "It was such an incredible time in the Lord," adds Amy. They also witnessed one girl devote her life to Christ.
The weekend came to a close with the leaders holding a foot-washing ceremony. "We wanted to show them the example of how Jesus our Savior was the ultimate Servant, and show them the example of how He washed the disciple's feet," remarks Amy.
Here at Mercy, we not only want to see young women set free through our residential program, but we also want to see men and women around the world walk in freedom. Just as Amy witnessed at her conference, we too are seeing people being set free as they work through our Keys to Freedom resource. This resource is a life-changing series that teaches a biblical model for freedom and offers the 7 practical keys that have proven to be transformational to thousands of hurting young women in Mercy's residential program for over three decades.
As a result of the revelation they receive from these teachings, many are inspired to become Freedom Advocates so they too can help people experience the freedom they have found in Christ. When talking about Mercy's Freedom Advocacy Program, Amy expressed her gratitude by saying, "I have a passion for Mercy because it changed my life, so I'm ready to do whatever God has for me to do."
Our Freedom Advocacy program equips men and women to effectively empower those who are struggling in a way that brings true healing and life transformation within their communities, churches, schools and more. If you want to learn how to become a Freedom Advocate like Amy and help multiply freedom to those near you, please click here.