Join Team Mercy 360 Today and Help Hurting Young Women!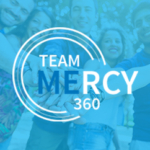 Did you know there's an easy way for you to partner with Mercy Multiplied every month? For less than $1 a day, or $30 a month, you can join our Monthly Partnership Program, Team Mercy 360.
360 is a number that means complete and all-around. It signifies the way Mercy Multiplied's multi-dimensional program for young women is designed to address the whole person – body, mind, and spirit. You have the opportunity to help transform thousands of lives by joining the team and giving.
As a Team Mercy 360 member, you receive the following benefits:
A free customizable t-shirt to wear proudly in the style and color of your choice.
A free annual entry into one of our "Run For Mercy 5K and Family Walk" events.
An exclusive opportunity to send hope-filled messages to the Mercy residents.
Join Team Mercy 360 today and together, through the power of Christ, we will see lives transformed and hope restored. Mercy begins with Me. Be the Me in Mercy and sign up today!
For more information on how to get involved and join Team Mercy 360, click here.