Earlier this year we received a gift from the Ramsey Family Foundation to replace the current storage bed frames and update the headboards in our St. Louis home. (The gifts were replacing furniture original to the home when it was opened in 2005.) As we were planning to make these specific updates to our home, our friends and partners at The Bed Boss, a mattress distribution company that creates memory foam mattress and memory foam pillow products, donated new mattresses. The Lord's timing was perfect!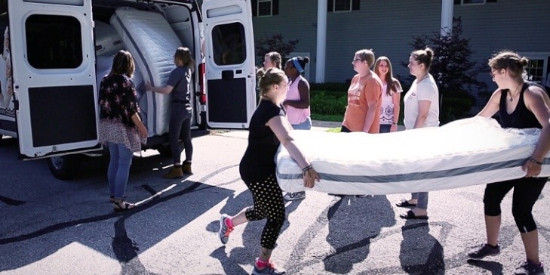 The Bed Boss has been very generous to Mercy Multiplied. In 2017, they donated 40 mattresses to the Nashville home and this year, they have donated 30 mattresses for each twin bed set in our St. Louis home. In June 2018, The Bed Boss arrived at the doors of our Mercy home in St. Louis with a truck load of mattresses. "The owners of the company have never even toured a Mercy home, but they have been so impacted by the ministry through word of mouth and our website that this is the second gift of mattresses in less than 12 months," said a Mercy staff member. We are forever grateful for their support of our organization and we value the mission and heart behind their giving. Founder of The Bed Boss, Andrea Folkins said, "Mercy Multiplied contacted us with a need and we were fortunate enough to meet that need. It is our privilege to help the girls feel more at home at Mercy with comfortable beds. We believe everything we have comes from the Lord. It is our greatest aspiration to spread His love by giving back. Every year, we donate a portion of our proceeds and hundreds of mattresses to organizations dedicated to transforming the lives of women, children, and families. We are extremely proud to support Mercy with our business!"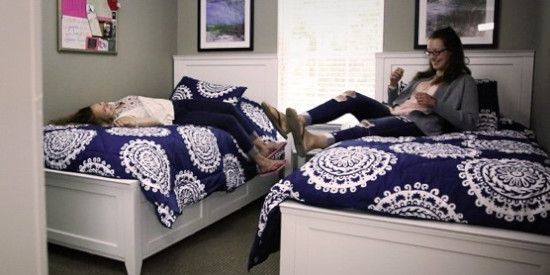 It's very important that our residents feel at home. Some girls that come into our homes have never had a bed to call their own, so having a brand-new mattress donated genuinely touched their hearts and showed them the love of Christ. One of Mercy's staff members said it even impacted her heart, "This day will forever be etched in my mind as I was able to witness blessings on both sides! I saw how the girls were blessed to receive new quality mattresses and I was able to see how blessed The Bed Boss staff were by seeing first-hand the impact of their generosity!"
As a result of both The Bed Boss and Ramsey Family Foundation's generosity, we were able to update the storage bed frames, headboards, bedding and mattresses all at the same time and it turned out beautifully! Click here and watch the excitement unfold when the truck pulled up to the home.