Valerie – 2017 Graduate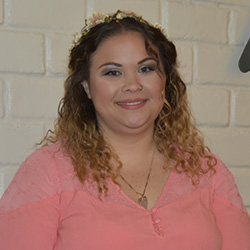 I struggled with anxiety and depression from a very young age and would eventually turn to drugs, self-harm, and relationships with men to cope. Both of my parents struggled with their own addictions and issues, so I didn't get a lot of my needs met as a child. I struggled with feelings of abandonment and rejection.
I heard about Mercy from a pastor at my church. I applied because I'd already been to a few treatment facilities, including counseling programs, hospitals, and rehab. I was desperate and knew I needed to get out of my environment, but didn't have the money for a long-term residential program. When I first arrived in the Mercy home, I was pessimistic, angry, doubtful, cynical, and felt very worn-out by life.
Once I decided to re-surrender my life to God and allow Him into my problems, things started to change. When I let Him love me, I was able to love myself and treat myself with kindness and compassion. I eventually saw that I wasn't always the source of my problems, that some of it had been environmental.
Through the Mercy program, God showed me who He is and who I am. He affirmed my identity, and showed me my worth. He's come alongside me and helped me to discern between truth and lies. He's changed my desires and revived a lot of buried dreams. Mostly, God has given me hope. I've been so surprised by joy.
After graduating from Mercy, I plan on moving home and working on my relationships with my family. I want to find a full-time job and pay off my debt while saving for the future. At some point I want to finish my Bachelor's degree in Psychology and start graduate school for Social Work. I'd also like to get married one day and start a family.
To all the Mercy supporters, thank you so much for all you've done and continue to do. It's amazing what one person can do for others when they're obedient to God's call on their life. I have come from so much darkness and despair into freedom, hope, and life. I can't truly describe how thankful I am. My thank you to you will be to walk out my salvation and freedom after Mercy and to be a light in dark places. I'll tell others what God has done for me and what God can do for them.