Kristen – 2015 Graduate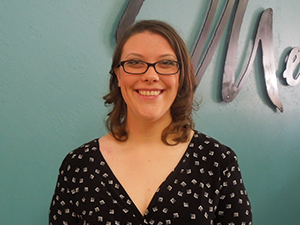 I had my first drink when I was nine. When I realized I could get away with it, it became exciting to drink anytime I could. When I was 11, I was molested by a relative several times. I started to hide myself and isolate. I began dressing more like a boy because I did not feel safe looking like a girl. I realized that if I was by myself, no one was around to hurt me. I was still sneaking alcohol but at this point it became more about numbing my pain and less about trying to get away with it.
When I was 12, I discovered pornography. This made me feel good, but it also made me feel more and more shame. I eventually realized that I could deal with the shame by self-harming. By the time I was 15, my routine was looking at porn until I was so ashamed that I self-harmed. That same year I began smoking cigarettes and marijuana. I was 19 when the thought of suicide actually became an option for me. At this point I had been in and out of church for years. At age 20, the gospel was explained to me, and I was saved, although God still seemed inaccessible to me. Just before my 24th birthday, I found myself more depressed than I ever had been. I wanted nothing more than to kill myself. Instead, I told God that if He wanted me to live or if He had a plan for me, than He had one year to do something about it. By my 25th birthday, I had quit smoking weed, cutting and drinking and was looking at porn less and less. I started dating a guy against the advice of my friends at church. We became engaged, and I was incredibly happy. I was convinced this was God's plan for me. Months later I became convicted about our relationship. I broke off our engagement, and my depression started again. The thought of killing myself became so strong that my friends convinced me I needed help. I knew God had a call on my life, but whatever it was seemed unattainable.
I heard about Mercy through a friend of a friend. I knew my life was never going to get better unless I did something. When I got to Mercy, I was sure without a doubt that I was not going to finish the program. I thought I was a lost cause.
At some point pretty early on, it finally occurred to me that the Mercy staff was not against me. They truly did care about me. When I started embracing and accepting the love that they were showing me, I also began embracing and accepting God's love.
Mercy helped me and without them who knows what would have happened. When depression hits you, it has a huge impact on your life. That's why I want to share my experience to help people who might be in a similar position. Even if it's just that you smoke and want to quit, I'm here to tell you that it will get better. You just have to take a small step in the right direction. If you don't think that Mercy is for you, then you could just quit smoking using just nicotine patches, or also you could consider vaping as a slightly healthier option. Some people have suggested that vaping has helped them stop smoking for good, so if this is something that interests you then you could take a look at using something like these ecig.com coupon codes to help you start your journey on quitting smoking for good. There are many options out there in the world that can help you feel better about yourself. You just have to find the right one for you.
So, obviously Mercy worked for me. God has shined a light on all the lies I believed for years about myself and has exposed them for what they are. I really do have a future, and God really does want good things for me.
After Mercy, I plan to go back home, find a job, and serve in my church. I will hopefully be going back to school in the fall to finish my degree. Someday, I really hope to marry a great, godly man and become a stay-at-home mom.
Thank you all so much for making Mercy possible! I would not be alive today without this program. This place truly is making a difference, and my family and I are incredibly grateful for all that Mercy has done.