Kira Jackson – 2015 Graduate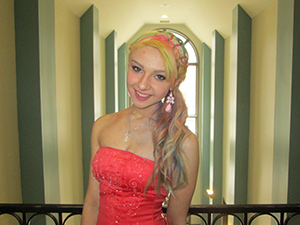 I grew up in a Christian home, but it was not very peaceful. I was made fun of and bullied a lot in elementary school. By third grade, everyone seemed to hate me for no reason—so I started to do the same. I began self-harming at age eight. I tried so hard to break my bones so people would have a reason to take care of me. Then, a friend of mine exposed me to some unhealthy sexual behaviors. I thought it was normal because I had never experienced a normal friendship before. Meanwhile, girls started to bully me much worse. They started stealing my lunch and would eat it in front of me, saying I didn't deserve it because I was fat. I believed that and started finding comfort in not eating, hoping it would make them treat me better. I left that school after sixth grade and started cutting. During seventh and eighth grade, I attempted suicide seven different times. I developed anorexia, bulimia, anxiety, paranoia and depression, and I started drinking and smoking. I covered it up with humor, craziness and a smile.
After a suicide attempt at school, I got kicked out. One of my teachers sent me two of Nancy Alcorn's books—Starved and Mercy Moves Mountains. I looked up Mercy online and saw that it could help with what was killing me, and it was FREE. A final stroke of hope came to me! I was 90 pounds, had no friends, and was scar-riddled. I was captured by fear and had not one ounce of self-esteem but every ounce of self-hate.
At Mercy, I learned that God was the solution to all my life-controlling problems. Before, I thought the solution to my pain and rejection was cutting, addictions and eating disorders. But when I turned to God, my problems began to shrink. I learned how much He loves and cherishes me. I learned how to take captive every evil thought. My thinking began to change. My life began to change. God became my new solution.
After Mercy, I plan to finish high school online, get a job, and learn to drive. My dream is to attend a makeup school in Paris and become a freelance makeup artist. I am called to plant a seed in that industry, and God is bit-by-bit revealing a huge plan for me. I know that God wants me to follow my dreams, but also include Him and share His truth and wisdom with others. I want to inspire others according to my testimony.
To Mercy supporters, thank you so much for everything you've given. It NEVER goes unnoticed. We are so blessed by all of you—blessed by things we feel undeserving of but get anyways because we are loved. Thank you for caring, for loving, and for STAYING, because that is exactly what saved my life.