Kimberly – 2015 Graduate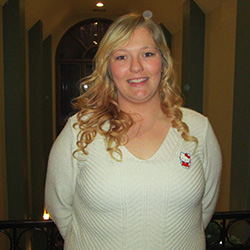 Before Mercy I was trapped in a cycle of addiction, sex and shame. I had encountered grief and loss, and I was filled with sorrow. When I originally ran across Mercy online, the program caught my attention, but I was not ready. I continued to use drugs and soon involved someone else. When he decided to take his life, I was very lost. I'd given my life to Christ a few years earlier, and I believe God used my pain to intervene. I chose to come to Mercy because I wanted to be the mom my kids needed.
A few months into my Mercy journey, I completely surrendered my life to Christ.  I stopped trying to control my healing and surrendered my idea of what healing meant and looked like. I chose to accept God's leading. Realizing that I could release control was a turning point for me.
While I was at Mercy, God gave me a newfound hope and a solid foundation for my future with my kids. I've learned to trust and to set boundaries. I know that I can continue to strive for greatness. I don't have to surrender my hope, peace and happiness to the enemy.
After graduating from Mercy, I'll be stepping back into parenthood. I'm looking forward to beginning a new, but stronger and unshakable relationship with my kids. I will also be attending school, and I plan to be active within my community.
To all the Mercy donors, your gift to me was life-changing for both my kids and me.  Your donation has truly been multiplied!! Thank you from the bottom of my heart! May God pour blessing on you and your families.