Karissa – 2015 Graduate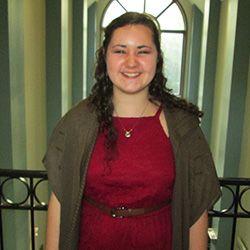 My parents provided for all my physical needs growing up, but I did not learn from them how to attach emotionally. I was diagnosed at six with diabetes and the shock, fear and anger took up a lot of my parents' emotional energy. I required a lot of their attention, and my siblings grew in resentment. Soon after this diagnosis, a family member began sexually abusing me. This went on for many years. In middle school my parents divorced, and I felt the painful weight of betrayal. I blamed myself and carried guilt on top of all the shame of the abuse. I began self-harming and soon after began frequently using pornography. Through my teenage years, the sexual abuse came out, but was never addressed, and at times completely ignored. I began a string of co-dependent friendships that eventually led to very serious, inappropriate relationships, one with someone where I worked, and another with a leader at the church I had begun attending. Self-harming, drug use, restricting food and bingeing became my release and means of self-punishment.
A counselor at the church told me about Mercy. After looking at the website I couldn't get it out of my head. I printed off the application, just to see what the questions were and what my answers would be—not having any intention or desire to really apply. Soon I found myself hoping that maybe, just maybe, Mercy could help. I began the application process a few months later. When I walked through the doors, I was scared and very numb. I wore masks, making friends quickly and denying my pain.
Before entering Mercy I had just reaccepted Jesus as my Lord and Messiah because I had completely rejected Him while following the Jewish faith. One of the main turning points was when God allowed me to see the extent of what Jesus did, coming in the form of man and dying on the cross for me. He brought me to true repentance. Another breakthrough was me being able to really accept my story as my own. I had been so emotionally unattached from my childhood memories that it really didn't even feel like my own memories in my head. Then one day, my story was mine, and it was sacred, and so cherished and delicately handled by God as well.
While at Mercy God revealed to me how loved I am. He has brought me into deep, real relationship with Him. He has shown me that emotion is good and necessary and is my responsibility. He has broken the overwhelming shame and guilt that I bore and taught me that my body is His. He has become my safe place, who will never shame me and where I don't have to fear.
After graduating from Mercy I am moving to a new city! I will be involved with a ministry that loves, supports and ministers to the Jewish people. I am in the process of getting a job and plan to attend college in the future.
To all the Mercy donors, what you do is so important for every girl that walks in Mercy's doors. I would not have been able to go to Mercy if I had pay. Your work and support keeps this going and is how I was able to finally find healing and freedom in the areas that I was being controlled. Thank you so much! I wouldn't be where I am without you.