Brooke – 2015 Graduate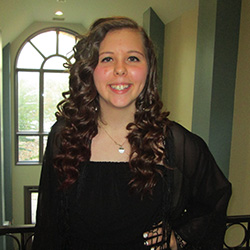 My mother and father were never in the picture, which caused lots of rejection issues for me. I began taking my anger from my parents' absence out on my grandparents who took me in.
I found out about Mercy through my grandparents. I decided to apply because I had hit rock bottom and knew life couldn't go on the way I was living. I was pretty outgoing when I arrived at Mercy. I felt like this was my only chance to change my life, so I really took the opportunity seriously.
A major turning point for me came through the boundaries set by Mercy staff which helped me think for myself and not rely on the opinions of others.
While at Mercy I learned that I am a new creation in Christ, and all the things I did in my past do not define me now. I learned that I have an amazing future planned for me, and God has made me beautiful.
After graduating from Mercy I am looking forward to finishing high school. I hope to work hard and earn a scholarship to pursue art in college.
I appreciate all of the Mercy supporters for what they have done. The time, prayers and finances you give change lives! Your support helps add a child of the King to the Lamb's book of life. Keep changing the world!