Amy – 2015 Graduate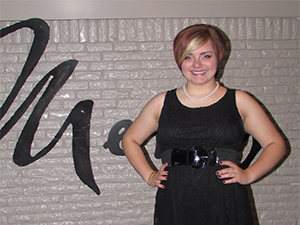 Prior to Mercy, I was in a cycle of instability. I was co-dependent on others and sought out food, drugs, alcohol and sex as coping mechanisms to feel temporarily satisfied and content. For years, I allowed others to speak labels over me and did not know what the Lord said about my worth and identity.
I found out about Mercy through a counselor. When I first arrived, I was very unsure of myself and looked for reassurance from anyone who would chime in. The misdiagnosis I had received prior to Mercy, along with years of being cast out by others, was evident in my lack of security. My weak confidence caused me to question God.
The biggest turning point during my stay at Mercy was finding the scripture 2 Corinthians 5:17: "Therefore, if anyone is in Christ, the new creation has come: the old has gone, the new is here!" This scripture showed me that I was completely new. Through this, I learned that I had nothing to prove to anyone because my past mistakes are completely gone. This has allowed me to gain freedom in not wanting to gain approval from others!
While at Mercy, God showed me how to live on the foundation of His truth and who He intended me to be. He has torn down my walls and labels. Through Him, it's my responsibility to not engage in the worldly views of those who don't understand me. The Lord has shown me how powerful His complete change is and the boldness that comes with walking in His perfect love.
In the future, I want to set a strong foundation for females to walk in their true identity in Christ. I plan on going to ministry school in hopes of one day advocating for adoption and counseling birthmothers after placement.
I would like to say thank you to all the Mercy supporters for sowing good seeds in fertile and blessed ground. Through the seeds you've sown, my life has been changed. I can now in turn plant more blessings into others' lives.