Michal – 2014 Graduate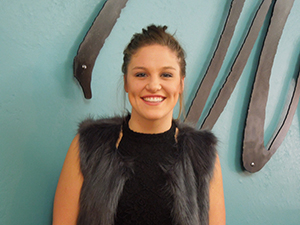 I was born into a very loving and supportive Christian family. When I was 10 years old, a neighborhood boy raped me, leaving me very confused and hurt. I turned to self-harm as an escape from the torment and fear I felt inside. During my teenage years, I partied and abused drugs and alcohol to drown my pain. I got pregnant from the first guy I slept with, but it ended in miscarriage. My alcohol and drug abuse continued and led me to black out and be raped multiple times. I attempted suicide twice. After my second attempt, my parents and I decided that I needed drastic help.
I initially heard about Mercy through former Mercy residents. My family had also supported Mercy at the Run for Mercy 5K. When I arrived at Mercy, I was very angry and scared. I didn't want to talk about my past or face the things that had caused me so much pain.
One major turning point for me during the program was when I finally understood in my heart that God loves me unconditionally. He made me for a purpose. I decided that self-harm and suicide were no longer options for me.
While at Mercy, God completely changed the way I see myself and the way that I see Him. He has shown me what it looks like to be loved and cared for no matter what. He has also shown me what compassion and grace look like. I do not have to be perfect. I am human and will make mistakes, but that doesn't make me any less worthy of love. God has restored my joy. I am able to smile and laugh and enjoy every day, even if it's not the best day, because I know that He loves me.
After Mercy, I plan to attend college and pursue a degree in psychology. Eventually, I would like to work for an agency that helps find missing children. Most of all, I plan on simply being happy and laughing a lot. God has restored my laughter!
Mercy donors, I cannot thank you enough for what you have done for me. Thanks to your support and prayer, God has truly transformed my life. Before Mercy, all I could see was death, but now I see a long happy life that God has planned out just for me. Without donors like you, I don't know where I'd be. Your dedication to Mercy saves lives everyday.