Karina – 2014 Graduate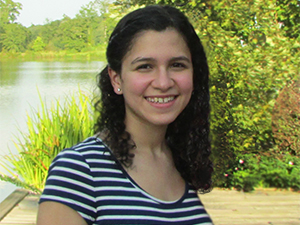 I was bound by one form or another of sexual addiction my entire life until I came to Mercy. My earliest memories include going to church, but they also include being molested by a relative and experiencing other forms of sexual abuse. I hated myself for what happened when I was young. Feeling like a monster, I strived to punish myself. I accomplished this first by cutting and later by getting into abusive relationships. Eventually, I got married thinking that would fix my problems. However, my marriage was extremely unhealthy and mentally destructive. My mind was in such a bad place that I thought if I did stay with this man, I could finally be forgiven for what I had done in my past—as if enduring this relationship would mean paying the penalty for my actions. Deep down, I knew that wasn't true. I had hit rock bottom and needed help. I knew Jesus was the answer, but I just didn't know how to stop sinning and seek Him.
My mother first told me about Mercy. When I arrived at Mercy, I was hungry for the Lord. My entire life I had lived half for God and half for the world. I only gave Him what I felt comfortable giving. But not even a month after arriving at Mercy, I finally surrendered everything to Him.
While at Mercy, God taught me that hearing His voice was never meant to be an occasional or arduous task. God wishes to speak to us daily, if only we are open to hearing Him. Once I opened my ears and heart, He spoke to me about His love for me. He taught me that His sacrifice on the cross was enough, because His glory was greater than my sin. God taught me that I did not need to punish myself because He paid for my sins on the cross. I didn't even need to feel shame or condemnation, because He took that too. He has helped me love myself and therefore, love others.
Before Mercy, I was very critical of myself. I was blessed to have a counselor at Mercy that gave me a glimpse of God's grace. She was so patient and kind. She taught me how to be patient and understanding with myself, rather than beating myself up for every little mistake. The lessons I learned at Mercy are endless, and I plan to spend the rest of my life applying every single one.
After Mercy, I plan to go back to school and finish my bachelor's degree in education. I also hope to one day work with the youth in my church and share the life-giving truth I learned at Mercy with other young girls.
I am alive for the first time in my life, thanks to Mercy and the donors who made it possible for me to come here for free. Thank you!