Caitlin – 2014 Graduate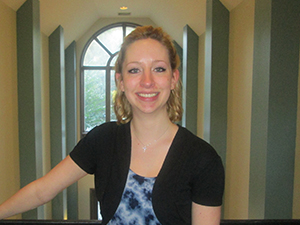 My parents did their best raising my siblings and me, but circumstances weren't always ideal in my home. I became caught up in drugs, alcohol and sexual immorality and ended up with two unplanned pregnancies. After I had my first child, I headed down the wrong path again. Eventually, I left my son with my parents while I went off to "fix myself." This attempt at help only ended up making things worse.
When I found out I was pregnant with my second son, I finally made the decision to apply to Mercy. I first heard about Mercy through my sister several years ago. When I arrived at Mercy, I had experienced abusive relationships and a completely broken life. I was shattered and dependent on unhealthy coping methods. I was committed to stick it out at Mercy until my life was transformed.
I experienced a shift in my thinking when I realized that this life is not about me but all about glorifying God and living for Him. Another major turning point during my time at Mercy was when I decided to place my baby for adoption. After a lot of praying and thinking, I chose to seek the BEST God has for this child. I truly felt that in this case, adoption was the right choice. Even though it was difficult, I was completely dependent on the Lord in making this decision.
While at Mercy, I have learned that the purpose of my life is to glorify God on earth. He has given me a joy that I have never experienced before and a peace that surpasses all understanding. He has completely transformed me from the inside out. I am totally different in the way I think, speak and act.
After Mercy, I plan to go back to college. I also want to take up hobbies like piano, photography and painting. I will work to become the best mother I can be to my first child. Eventually, I would like to get involved in mission work as well.
To anyone who has given to Mercy, thank you so much for your generosity. You have no idea what your support means to the girls at all the Mercy homes. You are helping transform lives inside and out. I can speak from personal experience that this is an amazing place for God to really work. Love transforms lives at Mercy, and I thank you for your support from the bottom of my heart.