Alexandra – 2013 Graduate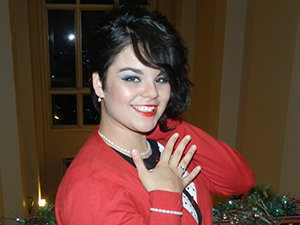 I come from a poverty stricken area where drugs and prostitution are very common. As a child, I experienced emotional abuse and neglect, and for many years my father was not part of my life. I remember visiting him in prison when I was 12. I avoided my mom in our home at all costs, isolating myself and escaping emotionally by watching children's movies all the time. My father was released from prison when I was in high school, but by then I felt very broken and began to seek out destructive ways to cope like self-harm. That opened the door for so much oppression, and my life became filled with anxiety, depression, thoughts of suicide, pornography, sexual sin, and a hatred for God.
I was in a very dark place when I found out about Mercy. My pastor's daughter had graduated from the program and after talking with her about her personal transformation, I knew that I needed to come.
God has done SO much during my time at Mercy. He has completely renewed my mind and how I see myself. I no longer see the need to "punish" my self with cutting, and my sexual addictions have been conquered! A huge turning point for me was rededicating my life to the Lord and mending my relationships with my parents.
After graduation, I plan on attending college at a university back home. I want to study missions, anthropology, creative writing and music. After college I would love to be a worship leader and a missionary to the nations of the world. Someday I hope to have a godly marriage and be a mom to adopted and biological children.
I am so thankful to Nancy for obeying God's call on her life. She is such a blessing! I am also very grateful for all of the donors who have entrusted their money to the Lord by giving to Mercy. When I am financially stable, I plan to give to Mercy because the money is put to excellent use and I know firsthand the transformation that is possible.