April – 2012 Graduate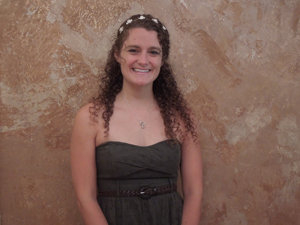 As a young child, I was sexually abused, and my home was often chaotic. While those close to me were spiraling out of control, I strove to please them by being perfect in my athletics and school work. I desperately wanted to find contentment, so I learned to withdraw from the fighting within my family.
During my teenage years, I became even more confused. I believed I was "thicker" than my friends, so I restricted my food and self-harmed. My world was already fragile, but it completely crumbled during my sophomore year of high school when I experienced the deaths of several friends. The pain of that year made me vow to never cry again. I couldn't count on relationships, so I tried to harden myself, but God rocked my world. That next year, He became real to me for the first time, and I wanted to trust Him. Unfortunately, my eating disorder gained a bigger grip on my life.
In college, I met a boy and fell in love very quickly. Our relationship started out pure and God-centered, but it soon consumed me. After a time, I hated the person I had become, and we broke up. The absence of that relationship devastated me, and I soon stopped eating, became addicted to running, and moved across the country. Absolutely nothing eased my hurt, and I was briefly hospitalized.
A near death experience finally pushed me into the hospital where doctors told me I had two weeks to live. I was immediately sent to a secular residential home, but I relapsed almost immediately after leaving. In a final decision to end my life, I overdosed on my sleeping pills. Miraculously, I survived, and it was after this experience that my mother discovered Mercy on the internet.
God had been stirring within me for years, yet it was only during my darkest moments that I could allow His complete healing. At Mercy, God truly became my strength. He revealed that I must surrender my will to Him when life overwhelms and fight from a place of victory. I learned to center myself on God's Word and to choose His way every day of my life.
After Mercy, I plan to regain relationships with my family and begin serving in churches and on mission trips. I have a passion for children, and I hope to someday work in orphanages or elementary schools while studying the Bible at a seminary.
At Mercy, I received deliverance from my past and hope for the future. I realized that I have value and that God offers me life every day. With this gift of freedom, I hope God will use me to bless others.