Katie – 2010 Graduate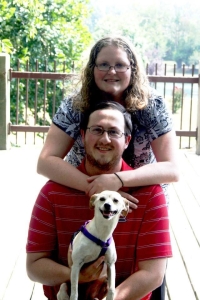 Before I came to Mercy, I worked as a clinical pharmacist in a hospital, but my life was debilitated by depression. I did not go one day without binging and purging or self-harming. All my vacation and sick time at work was spent on inpatient admissions to psychiatric units or in doctor's offices. I spent hundreds of dollars every month on treatment, hospital bills, doctor visits, and medication. My life was a living nightmare. I wanted to die every moment of the day, and no amount of therapy seemed to help. I heard about Mercy from a friend who was on staff at Mercy.
During my time at Mercy, I found that God was the only one who could rescue and deliver me. Now my identity is in Christ instead of what the world says about me or my accomplishments. The Lord has restored my hope for a future and has put new dreams in my heart.
It's hard to believe it's been five years since I graduated from Mercy. I'm so grateful for the redemptive grace of God I found at Mercy and have now walked in these past years. At Mercy, God restored my dream of becoming a wife and mother. I didn't think that was possible before, but now I feel like I'm living my dream. He has blessed me with an amazing Godly husband who cherishes me and embraces the journey and testimony God has given me. I am not a mother just yet, but I know God has a plan in store for our future. I have returned to working in a pharmacy and see God's redemption in so many areas of my life. I'm so thankful for Mercy and the donors who gave me a second chance for life and life more abundantly.