Thanksgiving At Mercy (An Inside Look)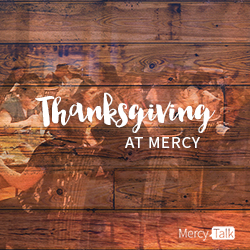 Happy Thanksgiving from our MercyTalk team! We hope that you are enjoying the holiday and that you will join us as we listen in with MercyTalk host, Melanie, and two of our home staff members, Erin and Janelle, as they share a sneak peek into the Thanksgiving holiday for our residents and staff. They will discuss:
What holiday food prep for a Thanksgiving meal for 40 residents entails!
How the Thanksgiving holiday in the home impacts the residents and the staff
How to have a happy, meaningful holiday despite the challenges in the past
The truth that the Lord places the lonely in family and how to receive His love this holiday season
Have a comment or question? Email MercyTalk.