Roots of Addiction: People Pleasing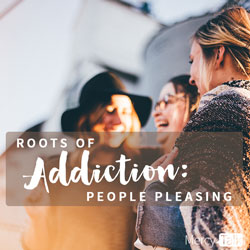 Join us on MercyTalk today as we discuss an addiction to people pleasing and how people pleasing can attempt to meet our need for approval. People pleasing is an area that MANY people struggle with, but are not always aware that it's happening and that it can have serious repercussions. MercyTalk hosts, Jen and Melanie, with special guest, Brooke will discuss the need for healthy approval and how we can address an addiction to people pleasing from a biblical perspective. They will also discuss:
What people pleasing is and what to do if we identify it in our lives
The personal and relational challenges that people pleasing can create
How to overcome people pleasing
The importance of boundary setting
Additional resources
Have a comment or question? Email MercyTalk.