MercyTalk Listener Responses for 2018: Part 2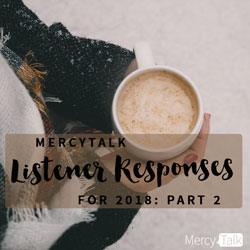 Join MercyTalk hosts, Melanie and Jen, on the second part of a two-part discussion as they share MercyTalk listener responses to the last two of the three questions posed for reflection for 2018! Today they will focus on the remaining two questions of the series:
"What is the single biggest time-waster in your life, and what will you do about it this year?"
"What's the single most important thing you could do to improve the quality of your family/community life this year?"
We hope you will join us and then reflect on these questions for yourself!
Have a comment or question? Email MercyTalk.