Looking Ahead to 2018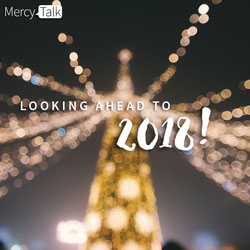 With the start of a New Year comes the opportunity to look ahead, set some goals and enter the year connected to the heart of the Lord. Join MercyTalk hosts, Jen and Melanie, as they discuss the importance of intentionally taking some time to look ahead to the year to come! They will also chat through:
Practical ways to prayerfully prepare your heart for the New Year.
Setting aside time to cast new vision and set new goals.
The importance of having a plan in place in order to succeed in the New Year.
Seeking the Lord for His perspective and insight on the New Year.
Have a comment or question? Email MercyTalk.