Keys to Freedom One Year Anniversary with Nancy Alcorn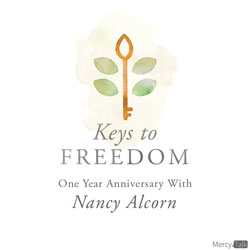 Join MercyTalk hosts, Jen and Melanie, as they celebrate the one year anniversary of the release of Keys to Freedom with a SPECIAL guest – Founder and President, Nancy Alcorn! Nancy joins us in studio today as we celebrate! Join the three of us as we:
Reminiscence about the Keys to Freedom launch party last year!
Nancy shares how the Lord originally gave her the principles for Keys to Freedom.
Nancy shares the story behind how Keys to Freedom came to be.
We share some new, exciting testimonies of freedom!
Have a comment or question? Email MercyTalk.