Depression and Suicide: Part 2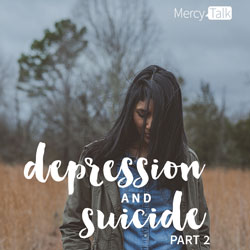 When you google "overcoming depression and suicide" there are a variety of articles and websites that will come up with many helpful steps to take that address these struggles, but those steps typically focus on the behavior and not the true root. Today on MercyTalk, join hosts, Jen and Melanie, with guest, Brooke as they spend some time discussing some of the biblical keys to overcoming depression and suicide that we have used for decades here at Mercy and have watched countless young women use to overcome. They will talk through:
Some of the root causes of depression and suicide
Identifying the hurts and/or the spiritual warfare that may be present
How to address the hurts and/or spiritual warfare that you identify
What is on the other side of our obedience and choosing to take steps to overcome
Have a comment or question? Email MercyTalk.