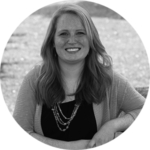 The craziness of the holidays is in FULL swing. We have the opportunity to get the most out of each day, or let it get the most of us…it's our choice! Here, Katrina, 2012 Mercy graduate, shares a bit of her heart to challenge us to finish out the holiday season with joy instead of stress!
---
Can you believe it? Thanksgiving is over and Christmas is the next major holiday on the calendar. Stores are already decked out with the lights, Santas, elves, candy… (side note—if you're buying Christmas candy now, thinking you'll be able to save it until Christmas, you may be in serious denial). Instead of allowing society to take a moment (a whole day even!) to be thankful, we're ready to charge right into the materialistic aspects of Christmas. BUT, this time of the year is actually an incredible opportunity…
We get to choose what that opportunity will be. 
We have the opportunity to be incredibly stressed, worrying about every minute detail for family get-togethers, travel, Christmas parties, cards, gifts, and the like… or procrastinate until the last second and then run around like a turkey with our head cut off to get things done.
We have the opportunity to be short-tempered and uncharitable to those we come in contact with because we have allowed the "holiday busyness" to drown out any "holiday cheer" we once had.
We have the opportunity to complain about the things we don't have. To grumble about the well-meaning person who said "Happy Holidays" instead of "Merry Christmas." To be resentful of hearing the same Christmas song 17 times in one day.
OR
We have the opportunity to be JOYFUL always—an unconditional joy amidst every stressful thing that comes up this season.
We have the opportunity to PRAY continually – To pray for loved ones. To pray for the people who get on our nerves, cut us off in traffic, are short tempered toward us. To praise God. To ask God to help us grow in virtue and grow closer to Him during this season.
We have the opportunity to give THANKS in all circumstances—How about an "attitude of gratitude this November/December? When others are irritable, why not be a light in that situation? Why not choose to be thankful for what we do have, instead of dwelling on what we don't? Why not praise the Lord for coming to this earth? Why not give thanks for our family and friends (even when they do get on our nerves)?
"Be joyful always; pray continually; give thanks in all circumstances, for this is God's will for you in Christ Jesus." 1 Thessalonians 5:16-18
What are some things you are actually extremely thankful for, but either continually take for granted or complain about (can be something or someone)?
During this time of year, is it easier or harder for you to live out this verse?
What are practical ways you will express gratitude this week to those you love?
[Tweet ""Be joyful always; pray continually; give thanks in all circumstances, for this is God's will for you in Christ Jesus." 1 Thessalonians 5:16-18"]