Viewing Heartache and Suffering from God's Perspective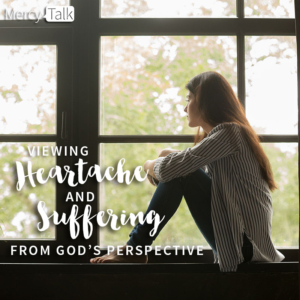 Join MercyTalk hosts, Jen and Melanie, as they wrap up this series on heartache and suffering. Today they will discuss the power that is found in looking at suffering and heartache from God's perspective. In addition, they will discuss:
Questions to ask when processing through the latter stages of pain and suffering in order to gain eternal perspective
Ways that God meets us in our difficulty and how He brings comfort, clarity and truth
Seeking out the "long view" in our suffering – ways that God is bringing goodness from our difficulty
Other ways to seek out an eternal perspective on our heartache and suffering
Have a comment or question? Email MercyTalk.
Podcast: Play in new window | Download
Subscribe: Apple Podcasts | Android | RSS