Joelle – 2018 Graduate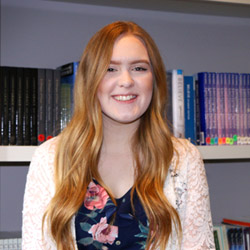 My parents divorced a little after I was born, and I never got to know my father. He was an alcoholic and abused my mom and siblings, so my mom left him shortly after I was born. Growing up without a father, I looked up to my older brothers a lot. We were all best friends. My mom was a single mom raising three kids, so she worked all the time and wasn't home much, which led to someone close to me taking advantage of and abusing me. My mom tried to address the situation, but even after that person was removed from my life for a period of time, I still sought their approval.
In eighth grade guys started noticing me, which led me to participate in some inappropriate behaviors to get their attention. Then I started getting bullied for it and people would call me names and tell me to kill myself. I became very depressed. That's when I started cutting, and I later attempted suicide. I told my mom about it, and she took me to counseling. However, I never worked out what I needed to. Then I ended up getting raped by a guy I didn't know. I went home that night feeling disgusting and thought it didn't matter anymore who I slept with, now that I had lost my virginity. After that, I started sneaking out, sleeping around and partying. I put myself in very dangerous situations, meeting up with people I had met online. When people at school found out that I was sleeping around, it soon became my label. I was severely shamed and bullied, which made me hate myself and feel even more worthless.
A family friend recommended Mercy to me. I applied because at that point I had lost everything and decided to give it a shot. I was very disrespectful and defiant when I first got here. I was very insecure and self-hating.
Here at Mercy, I have learned that my past does not define me and that I am a new creation in Christ. Something that really stuck with me was when a guest speaker came and spoke about far sighted and near sighted decision making, meaning: is the decision you're making for the glory of the moment without the care of the results, or is it going to benefit and bring light to your future moving forward? I apply this tactic to every decision I make now. It's very helpful. I've also grown a lot closer in my relationship with God because before Mercy, I didn't have one at all. Now I have a second chance to do what God intended me to do. I don't have to continue the unhealthy behaviors I participated in before.
When I leave Mercy, I plan to finish high school, continue growing in my relationship with God, and mend broken relationships. To the people who made this possible, thank you so much for showing me the love of Christ and helping me become the person God intended me to be.