MercyTalk Listener Responses for 2018: Part 1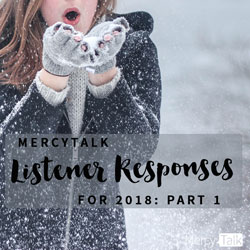 Join MercyTalk hosts, Jen and Melanie, on the first part of a two part discussion as they share MercyTalk listener responses to one of the three questions posed for reflection for 2018! Today they will focus on the question:
"What's one thing you could do this year to increase your enjoyment of God?"
We hope you will join us and then reflect on this question for yourself!
Have a comment or question? Email MercyTalk.
Podcast: Play in new window | Download
Subscribe: Apple Podcasts | Android | RSS